Rug Cleaning Northern Beaches

Rug Cleaning Northern Beaches
Is your rug getting too dirty for comfort? Dropped foods, spilled drinks, stains, and dust regularly come together to ensure your rugs are dirty. We get that you would love to keep a rug you absolutely as clean as possible. This is why our professionals at Fresh & Healthy Carpet Cleaning services are always on hand to clean your rug.
Our team of professional rug cleaners Northern Beaches visit your home with one goal in mind: getting your rug cleaned to manufacturer's recommendations. We pride ourselves on the professional, high quality services we render, providing high end results for various rug types.
Rug Cleaners Northern Beaches
Our special steam rug cleaning services are directed to your specific rug type, whether that be Oriental, Traditional, Persian, Chinese, or custom made. We provide high end results for rug owners on the Northern Beaches, covering both residential and commercial clients. A combination of our state of the art machinery and our many years of experience equip us to handle your oriental rug cleaning Sydney needs.
Oriental Rug Cleaning Northern Beaches
Your oriental rugs are not just floor coverings, they are respected works of art. These handmade wool carpets require the excellent care to preserve their beauty over time and prolong their life. We would all wish to have our oriental rugs forever clean. Sadly, that's not possible despite our best dirt-prevention activities.
But we are here to help. Our rug cleaning services adopts a delicate process for your oriental rugs. First, we test each colour for colourfastness before proceeding with our careful cleaning procedure using wool safe products.
Persian Rug Cleaning Northern Beaches
Persian rugs – like Oriental rugs – are made of natural fibres like silk, cotton and wool. These fibres easily accumulate dust, dirt and allergens. This is even worse if the rug is in a high traffic region. Every so often, your home or work environment will require the presence of a Persian rug cleaning Northern Beaches team. Regular oriental or Persian rug cleaning will not only maintain the cleanliness of your rug, it will go a long way to keeping you healthy too. Our Persian rug cleaning Northern Beaches team will see to it that your Persian rugs retain their quality during the cleaning process.
Carpet Rug Cleaning Northern Beaches
At Fresh & Healthy Carpet Cleaning, our carpet rug cleaning Northern Beaches team employs near-traditional methods of washing Persian and Oriental rugs to keep them clean, and to ensure that their lifespan is elongated. We recognise that the delicate fibres that make up your rug such as wool, will wilt under the pressure of typical cleaning machines.
Fresh & Healthy Carpet Cleaning offers you state of the art carpet cleaning services in Sydney at highly affordable rates. You can trust that our carpet rug cleaning Brookvale team will provide you with a service will be of the highest quality thanks to our vast experience and technical expertise.
Why clean your rug?
Keeps your home safe and eco-friendly for your family and pets
Freshens your rug, giving it a completely new look and feel
Gives life to your home, making it appear brighter and cleaner, while also feeling fresher
Why use Fresh & Healthy Rug Cleaning Services?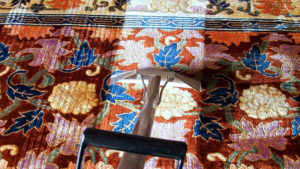 Fresh & Healthy Carpet Cleaning ensures that your rug is clean and ready for use in little time. We pick up your rug, vacuum, deodorise, remove any stains, and carry out steam cleaning to ensure it is completely clean and ready for use. Then and only then do we return your rug to you.
Our entire rug cleaning process feels like spa for your rugs. We carefully adapt our process to the best system for your delicate, antiquated, or contemporary rugs. When you need Persian or Oriental rug cleaning The Forest District services, our rug cleaners Northern Beaches will arrive your home or office, handling your rug with care through the entire process. More than just getting your rug clean, we seek to gently revive the colour, beauty, and gloss of your rug, in order to prolong its life and vitality.